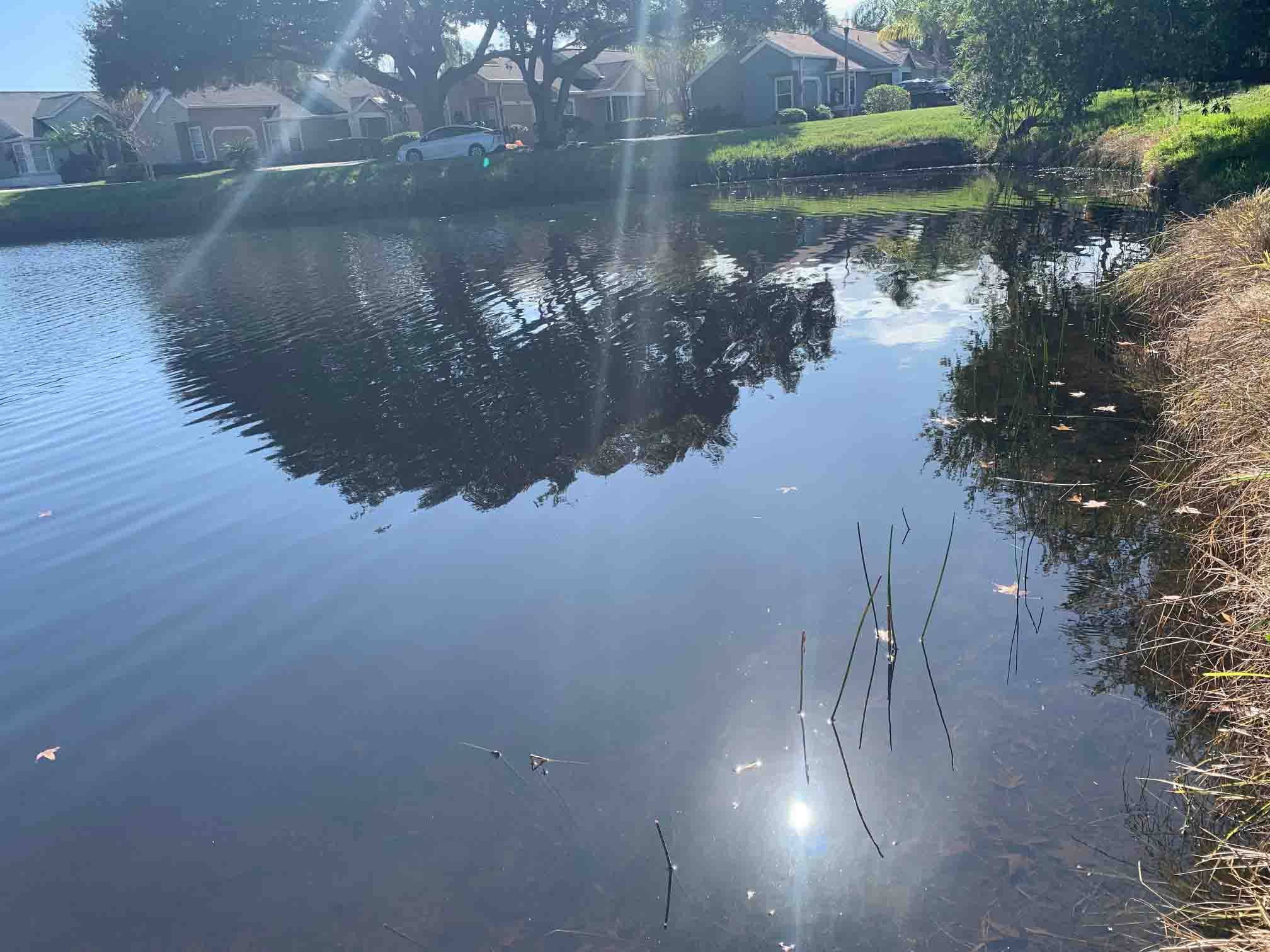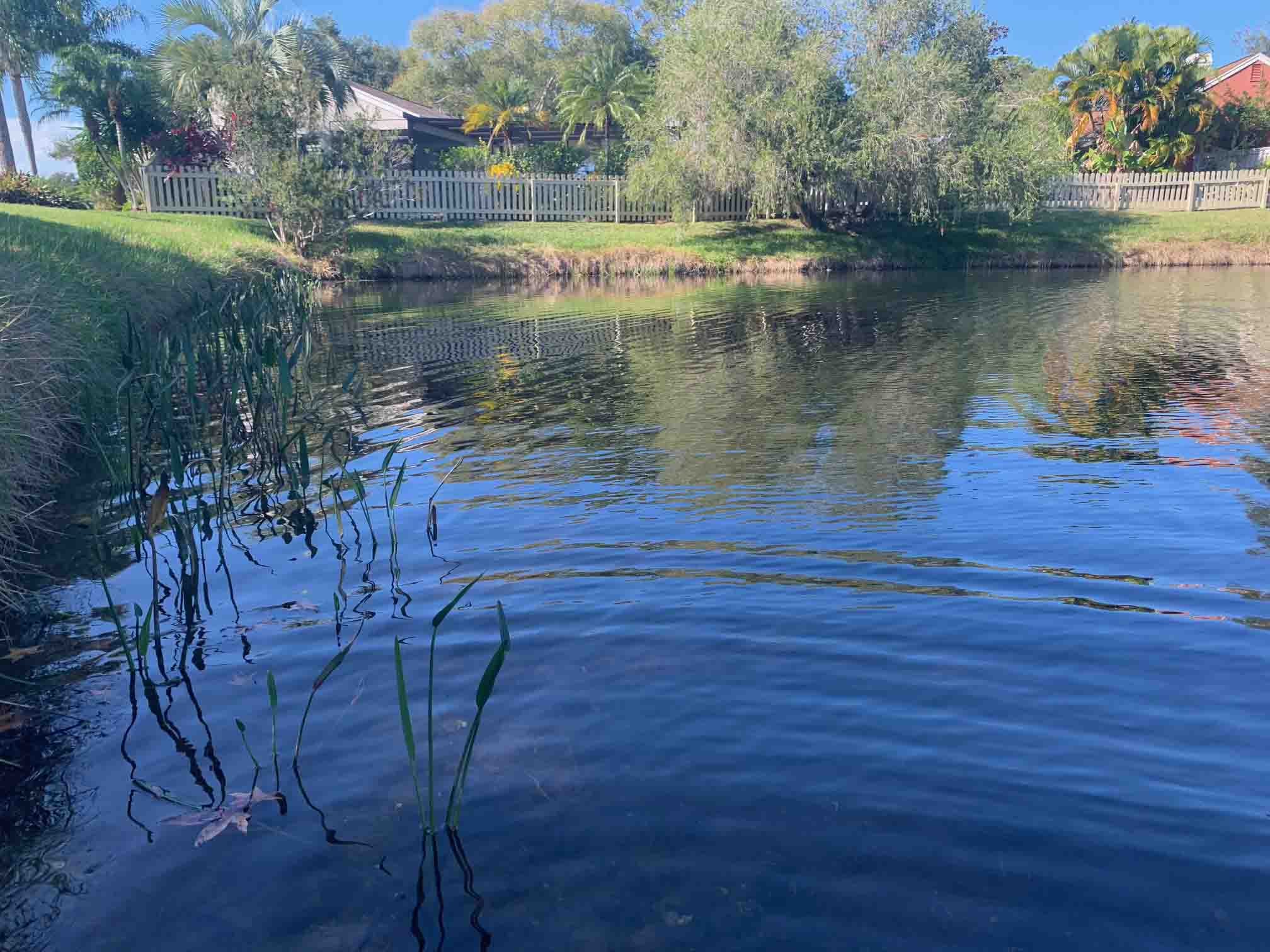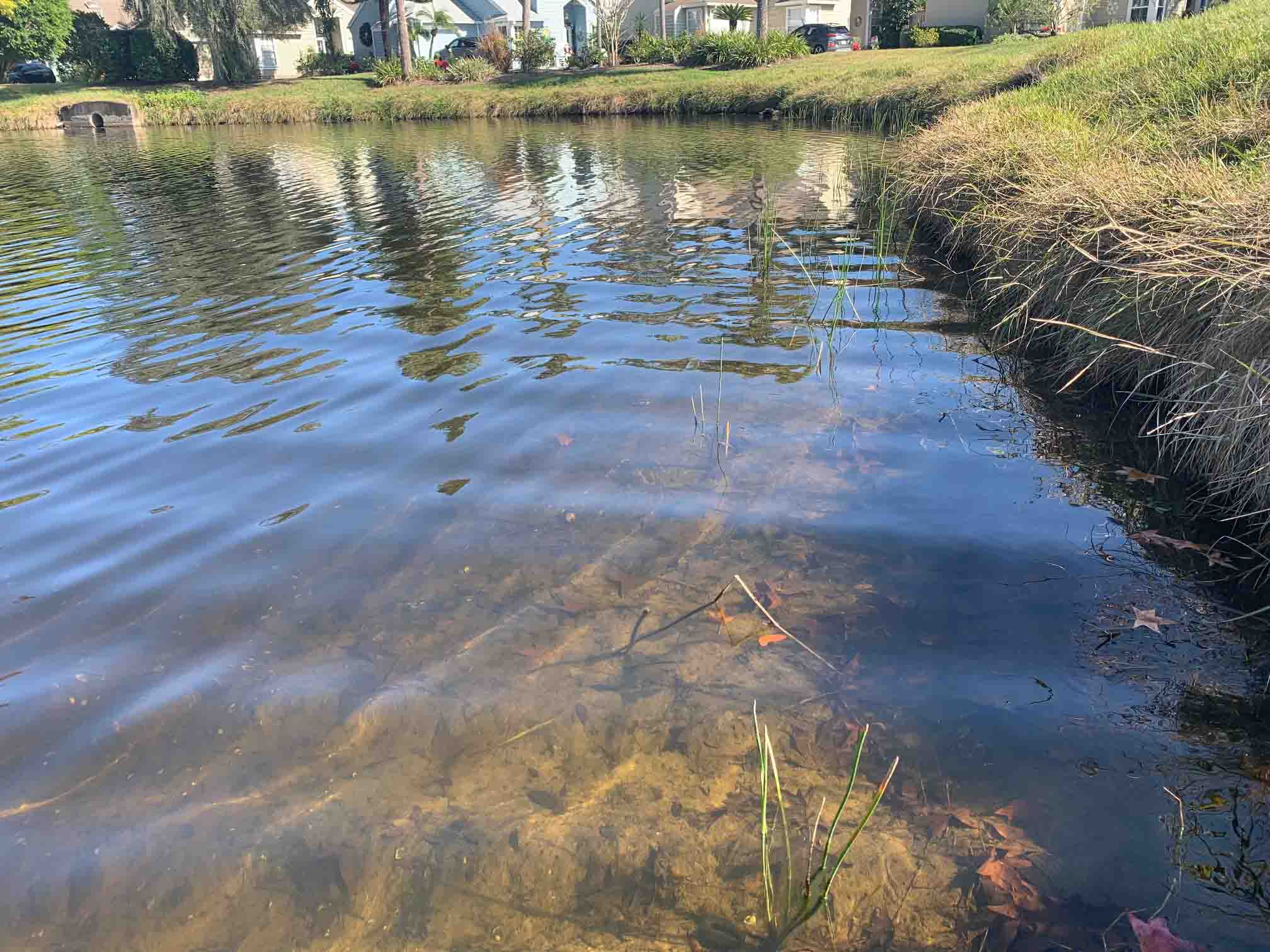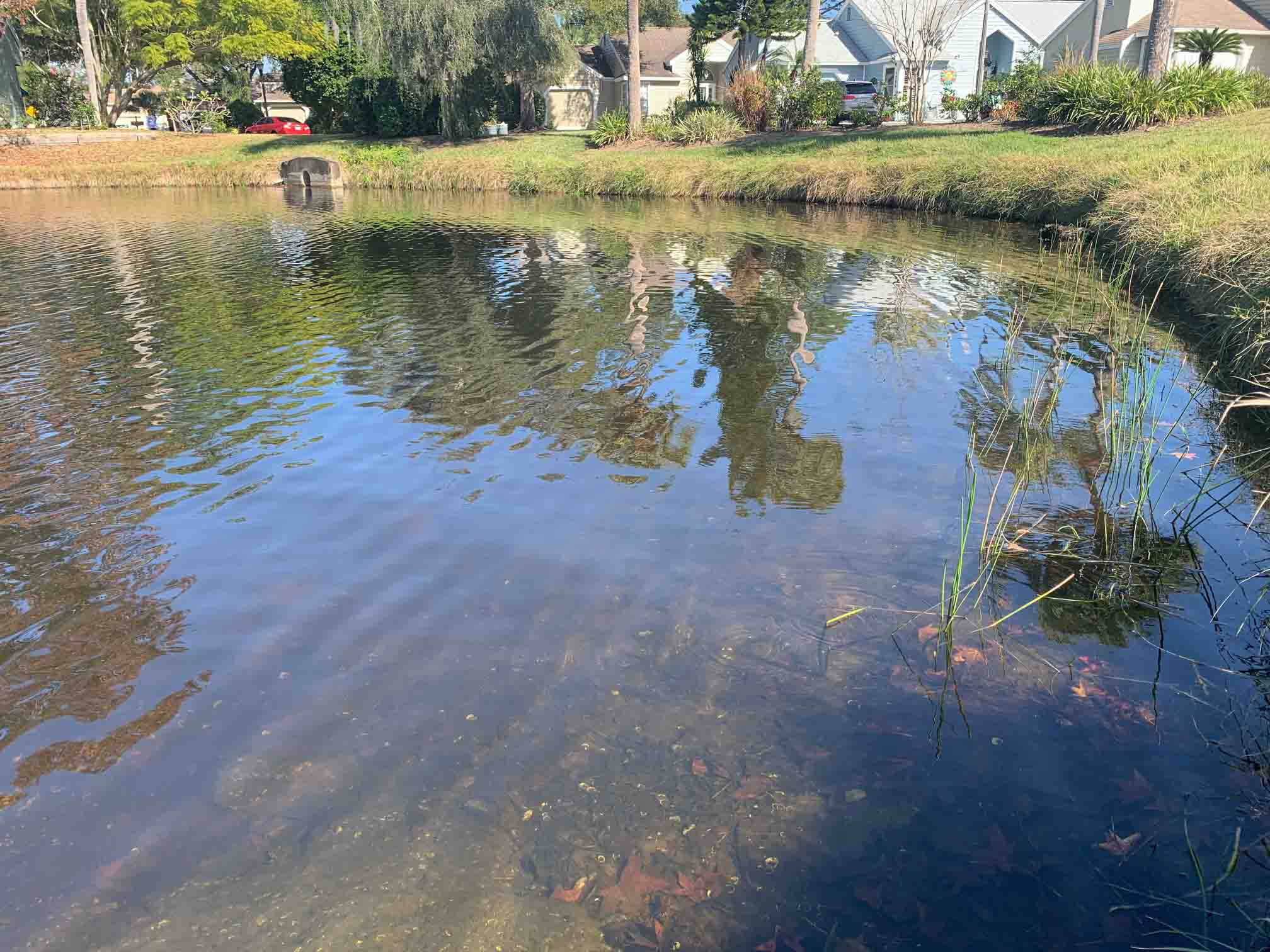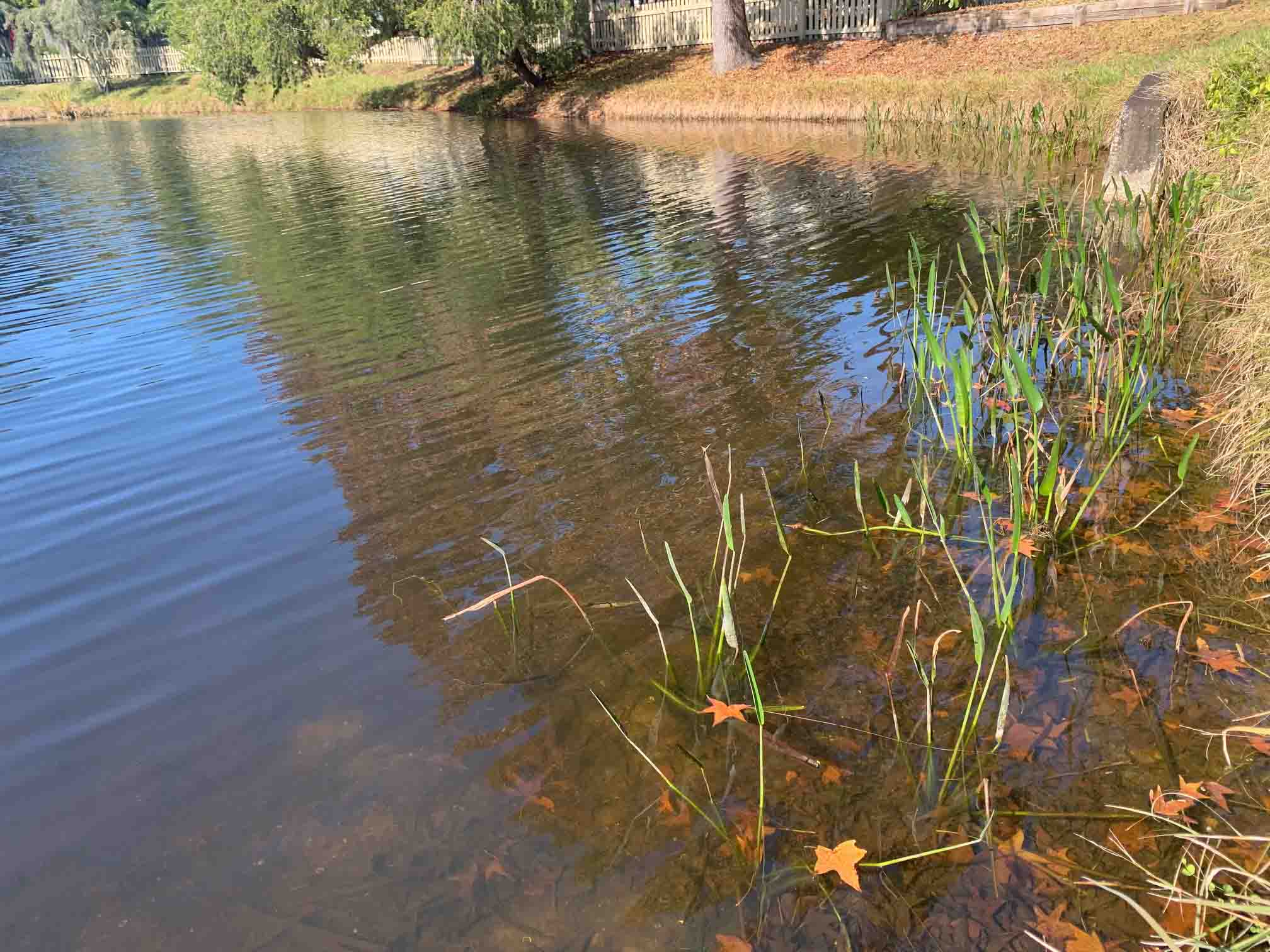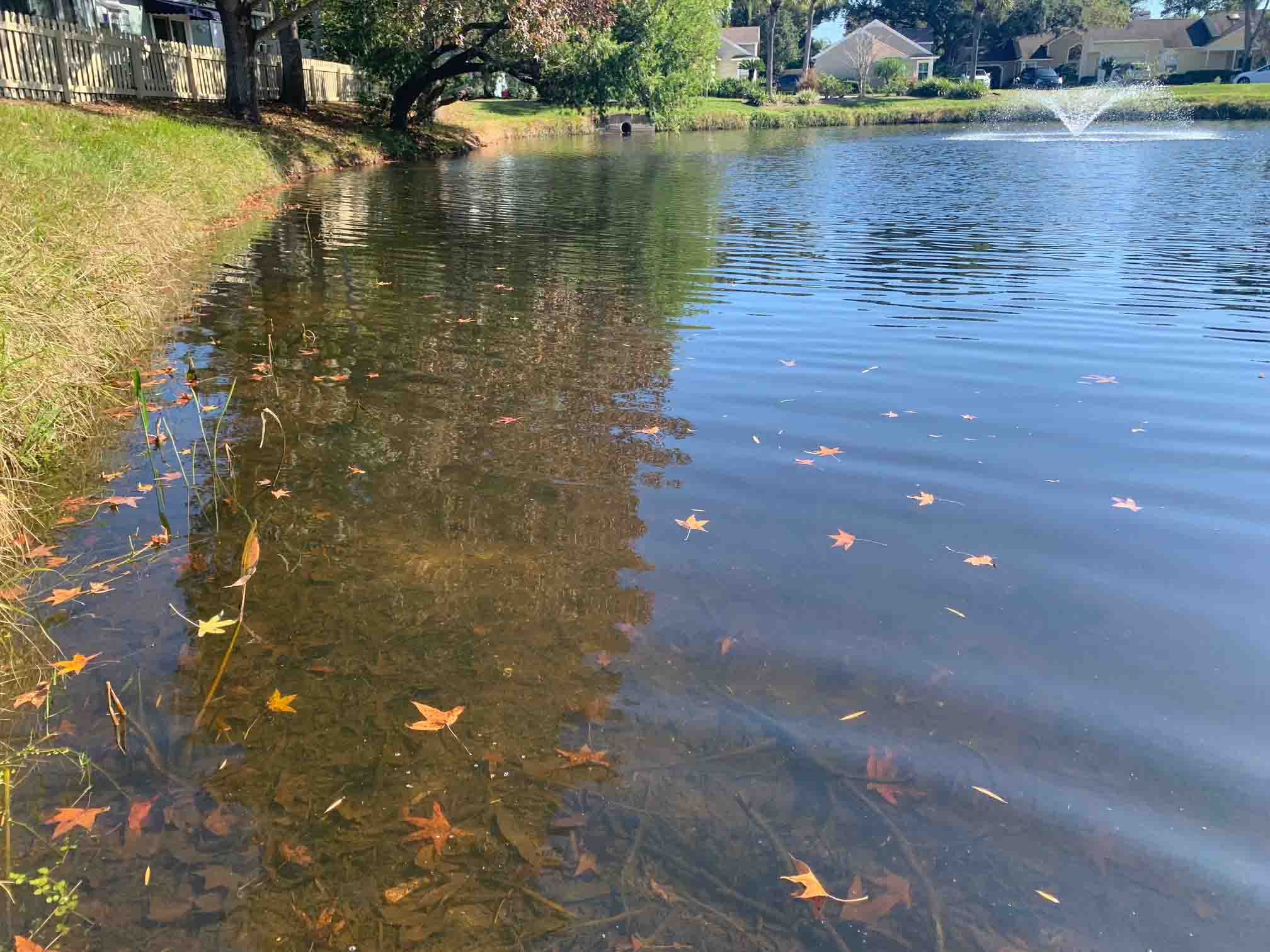 A Message From Chris Cipollina - Account Representative / Aquatic Biologist
" I visited the pond at Georgetown East today that had been recently planted on 11/7/19 to check on how these bare-root plants are doing.

I am pleased to say that these plants appear in great health, and are anticipated to continue to establish, mature, and spread along the perimeter of the site. We will continue to monitor these, and will complete another inspection around ~February 7th (90-days) to determine the survival rate of this planting to ensure that this meets our 80% survival warranty.

Here are photos from today's visit, which depicts the Gulf Spikerush, Duck Potato, and Pickerelweed that were installed. Some of these plants are still below the surface of the water, which is normal as we await them to mature, grow, and flower. Also, it is common for the leaves on these newly installed plants to brown and fall off. This occurs prior to new foliage growing in, and should not raise concern at these early stages of the installation. "


Welcome to Georgetown East HOA! We're glad you are here. Georgetown is a unique single-family home community in Safety Harbor, Florida. From our zero lot line homes to being a neighborhood of friends, we love the charm of our architectural design and the green space within Georgetown. We are pet friendly and people friendly. We hope you will enjoy living here as much as we do! Again, welcome!
To help maintain the unique charm of Georgetown EAST HOA we are guided by our Association documents. If you have not received a copy of the HOA documents from your seller, they are posted on our website (www.georgetowneast.com) or please reach out to our management company, AMERI-TECH Property Management, Inc. at 727-726-8000 to request a copy.
In addition to the Association documents we have neighborhood Guidelines based on our documents. These are more of the day to day neighborhood basics. To help provide more clarity we have put this outline together. Again, if you have any questions please reach out to the Board or our Property Manager, David Fedash at Ameriprise, dfedash@ameritechmail.com
The Homeowners' Association:
• We are governed by a Board of Directors. The Board serves one-year terms with annual elections in January. Meetings are held on the third Tuesday of each month and are open to all homeowners. The best way to get to know the community is to attend meetings and consider joining the Board. The Board structure includes several committees including Grounds, Architectural, and Social. Please feel free to reach out to any board member if you would like to learn more or to join a committee.


• The Community is managed by AMERI-TECH Property Management, Inc. and our property manager is David Fedash. For concerns or questions please reach out to David at dfedash@ameritechmail.com or 727.726-8000, ext. 252. He can answer neighborhood questions, address concerns and provide support for our neighborhood.


• Our monthly maintenance fee covers the expense of front lawns, ponds, roads, sidewalks and common area, power bills for street lights, water and insurance for common areas. We have fully funded reserves. Each homeowner is required to pay this fee.
Community Maintenance:
• Georgetown was built in multiple phases by different builders. Each one took the original design (which you will see on Roxbury and Georgetown Drive) and added their own personal touches. To ensure we are retaining the original architectural aesthetic for each area of the neighborhood as well as protecting property values, architectural requests are required for exterior changes to your home. These changes include but are not limited to roof replacement, painting, window/door changes, new driveways (i.e. cement to pavers), and fences. Please see the Georgetown website for the form and submission information.


• Garbage is collected on Tuesday morning, yard waste on Wednesday mornings and recycling on Friday morning. All trash/recycling containers should be placed at the curb the evening prior and then must be stored in your backyard or garage after it is picked up on the respective day. The City of Safety Harbor provides specifications for disposing of older electronics and hazardous materials. Please check the city's sanitation guidelines it you have larger, non-standard items, https://www.cityofsafetyharbor.com/108/Sanitation-Division.


• Window air conditioning units are not permitted in any windows visible from the street.


• Homeowners are expected to maintain their homes to ensure Georgetown retains its manicured appearance. Our property manager surveys the community monthly and will send notices of areas in need of clean-up or repair. Homeowners are requested to make those updates within 30 days.


• The Association cleans the sidewalks and driveways annually. Tile roofs are the responsibility of the homeowner and are expected to be cleaned, as needed.


• All hoses and hose reels, bikes, toys, and any other items that are not yard related must be stored and not visible from the street.
Community Information:
• Our website is our central source of information for the community. Please visit http://www.georgetowneast.com to learn more about events, announcements, meetings, minutes, documents and more.


• Resident directories are available. If your seller has not provided this to you please contact David Fedash for a copy.
Fences:
• We have three different fence types in the community. To help homeowners navigate the fencing guidelines are available from the Architectural Committee and will be posted shortly to the Georgetown East HOA website.


• The paint color for all fences is Benjamin Moore Georgetown Beige.


• All wooden fences must be painted promptly after the curing period is complete (typically 90 days).


• Please remember, too, that the gated fence in front of your home is your neighbor's access to their backyard. Please ensure that your neighbor has clear access for maintenance, waste container storage, etc.
Garage Sales:
• Garage/moving sales are not permitted per the Association documents. With enough interest the Board will approve and coordinate one community garage sale annually.
Grounds Maintenance:
• Front yard lawn care is maintained by a lawn maintenance company engaged by the Association and includes mowing, edging, blowing, and leaf removal.


• Front yards should not include anything that would block the lawn company from maintaining the front lawn areas.


• Oak trees in front yards are trimmed once annually. Palms in front yards are cleaned twice annually. Planting and removal of all trees is always the homeowner's responsibility.


• Mulch is placed annually in the Spring to provide a covering that will help plants retain moisture in the summer heat and deter weed growth. The community approved mulch color is Brown. If you replace/add in mulch between the Association placement, our mulch color must be brown.


• Lawns are treated and fertilized (with the exception of June to September) bi-monthly. Treatments for trees and shrubs in both the front and backyards are the homeowner's responsibility and not covered by the Association.


• Shrubs and hedges are trimmed periodically by the lawn company. If you do not want your plants trimmed you can place a red reflector in your garage window. However, if you do so you agree to actively maintain these areas.
Parking:
• Street parking is not permitted for more than a few hours and no overnight parking is permitted. This is to allow clear access for other neighbors, emergency vehicles, sanitation department trucks, etc.


• Commercial vehicles (owned by residents), boats, RVs are not permitted in driveways.


• Parking is not permitted on any grass areas on homeowner property or HOA common areas.
Pets:
• We are pet friendly without breed or size restrictions and dog walking is a big part of our community's friendliness. We do ask pet parents to help us keep our neighborhood pet safe and pet clean.


• All pets must be on a leash at all times while walking in the neighborhood. Regardless of whether your pet is well behaved off leash, it is an HOA, county and state rule that dogs be leashed at all times. This is for your pet's and all residents' benefit and safety.


• Please be sure pick up after your pet(s).


• Coyotes have been spotted nearby so be cautious when walking and if one is sighted make a loud noise which will normally scare them off.
Ponds:
• The Association maintains our ponds. Fishing and boating are not permitted for insurance liability reasons. Also, please be aware that we have had alligators in the ponds. Please watch children and pets near any open bodies of water in our community or anywhere in Florida.
Rooftop items:
• Satellite dishes can be placed on your home but must not be visible from the street.
Signs:
• Only the Georgetown specific design for real estate signs is permitted and can be found on our website. No other signs are permitted including contractor and political signs.
Street Lights: